Corporate Functions &
Community Events.
Come and enjoy the facilities offered for corporate functions and community events by our premier events centre in the heart of the Wairarapa.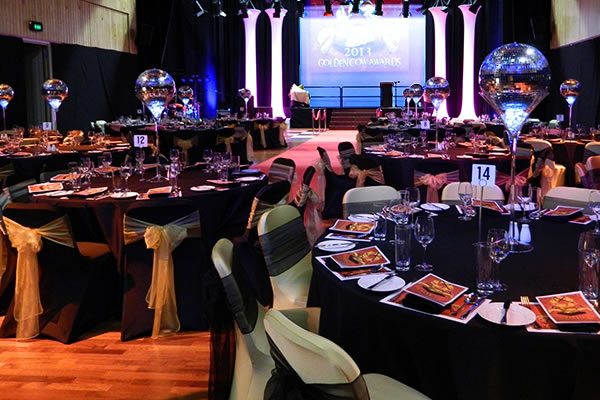 Carterton Events Centre is a purpose-built events venue, perfect for corporate functions and community events offering:
A 350-seat flexible space auditorium (with dressing rooms).
Foyer area ideal for welcoming your guests at the beginning of the evening.
Heat and serve kitchen (further areas available for additional catering requirements)
Large forecourt.
A sustainable building design, using natural lighting and temperature control.
Modern facilities making it a dream to set up.
Large range of options for staging, lighting and sound available upon booking.
The modern, flexible, space caters for all manner of events, shows, dinners, awards ceremonies and community gatherings. Possibilities for its use are limited only by our imagination.
Interconnection of spaces throughout the Events Centre allows for separation and opening up of spaces to cater for different needs.
Make the most of our friendly courteous service, in an award-winning building with outstanding facilities.
Venue package options are available by enquiry so contact us today to see how this award winning venue can complement your next corporate function or community event.
Daily rates start from $500 per day.
The Carterton Event Centre is one of the best venues in New Zealand. Designed for creative events, extra attention has been given to the little details such as roof access, flying rigs and draping ledges making life easy for any Event Manager. The CEC team are friendly and helpful with great communication – nothing was ever an issue. We look forward to working there again soon.
The Noodles performed at the Carterton Event Centre Aug 7th 2013 for the Golden Cow Awards and what a treat! This Modern venue has great acoustics, excellent stage lay out with plenty of options. Setting up lighting and projectors is also a breeze with easy access to the ceiling and plenty of hung trusses that can adjusted to any height making setup and pack down an enjoyable experience.