Carterton Information Centre – so much more than just information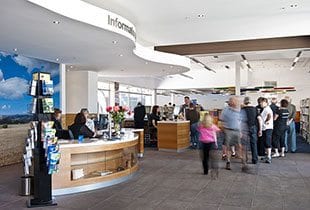 Mission
Our mission is to grow with the community, to evolve in conjunction with the other Carterton service groups and  organisations, meeting the needs of the locals and visitors to the greater Wairarapa.
Our Story
Set up 10 years ago to provide a service to the growing Carterton community and to those people intending to visit or currently visiting the Wairarapa. Initially run by volunteers it has grown to require a full time coordinator, assisted by the local volunteering community.
Open 6 days a week:
Monday to Friday 9.30am – 5pm
Saturday 10am – 4pm
Sunday Closed
You will be sure of a warm welcome.
Open 6 days a week, the Centre goes from strength to strength. In 2011 the team joined forces with the Carterton District Council to become part of the new Carterton Event Centre. They moved across the street into a new modern and inviting environment, bustling with activity through the Library, Toy Library, Wai Art, Plunket rooms and other groups using the facilities.
For further information please contact 06 379 4081 or visit the Information Centre on Facebook