About the
Carterton District.
'The heart of the Wairarapa'
From the beautiful Tararuas to the stunning Gladstone area, out to the tranquil coast; the Carterton region offers plenty of opportunities to find your perfect location!
The Carterton district covers an area of 1,180 km2 and extends from the Tararua Ranges in the west to the Pacific Ocean in the east. It has a total population of 8,232 (based on the 2013 Census information).
The major town in the district is Carterton (pop. 4850), which straddles Highway 2 in the centre of the Wairarapa valley. Originally Carterton was known as Three Mile Bush, established as a settlement for workers employed on the road between Greytown and Masterton from 1857. It was later named after Charles Rooking Carter, a successful builder and politician with large landholdings in the area, and a benefactor of the new settlement.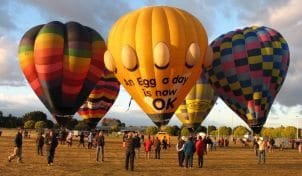 The district has craggy mountains, rushing rivers with dramatic gorges, undulating hills, forests, a coastal plain and a long sweeping coastline.
To the east of Carterton township is the popular rural settlement of Gladstone, named after British Prime Minister William Gladstone.
It is host to a number of excellent vineyards and wineries, and is well known for its creative and quirky annual Scarecrow Festival.
Another increasingly popular destination east of Carterton is Stonehenge Aotearoa. Built by members of the Phoenix Astronomical Society with the support of the Royal Society of New Zealand, Stonehenge Aotearoa is an open-sky observatory inspired by, and built on a similar scale to, the famous Stonehenge in England. It is not a replica of the mysterious ancient monument but a modern interpretation, based on the many stone circles and astronomical stone structures scattered around the globe.
Visit Carterton in the beautiful spring and you will be greeted by the annual Daffodil Festival. This events provides an abundance of activities over the weekend (second Sunday of September) from the famous daffodil picking at Middle Run, the popular Big Wai Art Sale and the historic Steam Train that transports visitors over from Wellington and much much more.
Tourism in Carterton district is on the increase, with visitors coming to enjoy weekends or extended holidays here. There's a wide choice of accommodation including homestays, B&Bs, motels, and camping sites. Award winning local restaurants and cafes offer a good choice of edible delights.
Author Attribution: Ben Arnold at en.wikipedia